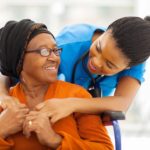 As the baby boom generation of the United States approaches retirement and their golden years, many of the children of the boomers find themselves concerned about the well-being of their parents. Many people find themselves in the position of being "sandwich moms" or "sandwich dads" trying to care for their children while keeping an eye on aging parents who are having difficulty getting to medical appointments or caring for their homes. Eventually, the time comes when the child of the aging parent realizes he or she cannot continue to meet the needs of their aging parents and they need assistance. For those in this circumstance, the option of an assisted living facility might be a good choice and provide much needed relief and security for all involved.
How to Select the Right St. Louis Assisted Living Facility
What is Assisted Living? The services provided in an assisted living in St Louis are designed to assist an older person with activities of daily living, such as dressing, personal hygiene, taking medications, and maintaining a clean and safe living environment. These services are provided in a residential setting and the person will either have a room or an apartment. The types of services provided by assisted living facilities vary greatly, but all provide 24 hour access to support and care as well as providing social activities.
Choosing a St. Louis Assisted Living Facility

| | | |
| --- | --- | --- |
| St Louis Assisted Living | Phone Number |  Location |
|  Brentmoor Assisted Living |  314-995-3811 |  Central County |
|  Dolan Memory Care |  314-993-9500 |  West County |
|  Family Partners Adult Day Services |  314-686-4444 |  West County |
|  Friendship Village of Sunset Hills |  314-842-6840 |  South County |
|  McKnight Place |  314-997-5333 |  Central County |
|  Pacific Place Senior Living |  314-961-3041 |  Central County |
|  Provision Living |  314-909-9797 |  West County |
|  Sunrise of Des Peres |  314-965-3800 |  West County |
|  Village North Retirement Community |  314-355-8010 |  North County |
Signs Loved Ones Might Benefit from an Assisted Living Facility
Some of the signs a parent or other loved one might benefit from assisted living include:
• Refrigerator empty or has food that is inedible
• Weight loss due not preparing meals
• Neglected personal hygiene
• Home and yard not well maintained
• Forgetfulness leading to dangerous situations such as not turning off a stove
• Parent or loved one seems depressed due to social isolation.

In the event the parent or loved one is experiencing these signs, it is best to first consult with a St Louis physician to determine the underlying cause of the change of behavior and what the doctor would be the most beneficial course of care.
Given the types of services offered by assisted living facilities in St Louis vary, a good starting point is to list the needs of your loved one. Does your loved one need help bathing or getting dressed or more helping in remembering to take medicine and getting to doctor's appointments? Another consideration is whether the assisted living is associated with a St Louis nursing home so there is continuity of care in the event you loved one needs skilled nursing and medical care in the future. Additionally, it is important to check to see if the assisted living facility is licensed and that there have not been any complaints or reports of violations against the facility.
Other areas to check include:
Does the staff seemed genuinely interested in your loved one or do you think you are just getting a sales pitch?
How does the staff interact with the residents? Often the quality of care one receives depends on the quality of the relationship between the staff and resident.
Alzheimer's disease (AD) is an age-related, non-reversible brain disorder that develops over a period of years. Initially, people experience memory loss and confusion, which may be mistaken for the kinds of memory changes that are sometimes associated with normal aging. However, the symptoms of AD gradually lead to behavior and personality changes, a decline in cognitive abilities such as decision-making and language skills, and problems recognizing family and friends. AD ultimately leads to a severe loss of mental function. These losses are related to the worsening breakdown of the connections between certain neurons in the brain and their eventual death. AD is one of a group of disorders called dementias that are characterized by cognitive and behavioral problems. It is the most common cause of dementia among people age 65 and older.
Source:    
National Institute of Neurological Disorders and Stroke, National Institutes of Health
Advances in the Treatment of Alzheimer's
With one in eight older Americans getting Alzheimer's in their lifetime, and the shocking statistic that Alzheimer's is one of the highest causes of death in the U.S., it is becoming more and more important for new treatments and cures for Alzheimer's. While there is no known cure to Alzheimer's, medicines are getting better and advances are still being made in the field. Progress includes understanding the mechanisms of the disease, controlling and understanding dementia, and new medications to help slow its progression.
Understanding Dementia:  Dementia is one of the worst symptoms  of Alzheimer's but recent developments are learning to understand it, and some of the advances allow for better treatment, which is very beneficial. Doctors now understand the differences between dementia caused by Alzheimer's and other diseases, which also allows for better recognition and diagnosis of the disease. Other advances, including new understandings of the biochemistry behind Alzheimer's boost these findings and allow doctors to better recognize and treat Alzheimer's symptoms. For example, the gene for the apolipoprotein E ∈ 4 allele is much more common in person with Alzheimer's than in those without it.Medications for Memory Loss: While memory loss is still the most prevalent symptom of Alzheimer's disease, there are now medications that help to prevent memory loss, and to slow its progression. Cholinesterase inhibitors and memantine are both used treat cognitive symptoms like confusion, memory loss, and thinking problems, to allow people with Alzheimer's to live more normally. The two types of drugs are used both separately and together depending on the case.
Delaying Progression: While drugs cannot yet cure Alzheimers, there are several options that help to delay the progression of symptoms. The two main drugs in this sector are tacrine and donezepil, which are mostly available as Cognex and Aricept, the two drugs, both of which can return a patient to their condition 6-12 months prior to starting treatment over time, although the patient will eventually slowly begin to slide into symptoms again.
Late Stage Care: There are also multiple new advances in late stage care, or the care of people with advanced Alzheimers. New research shoes doctors where patients are suffering, so that they can treat and better care for people who cannot communicate for themselves. This is important because many of the patients in medical care are left with poor care when they cannot communicate pain or discomfort.
While the advances in Alzheimer's are already quite a bit compared to twenty years ago, there are also many drugs to help slow and prevent symptoms in clinical trials, meaning that the medicine and treatment available might improve again within just a few years time. New tests that are being studied include methods of advance warning for identifying persons likely to get Alzheimer's, so that they can begin treatment before major progression of the disease. Other drugs are being tested for reducing the inflammation and working with the protein markers caused by Alzheimer's, and of course, doctors and biologists around the world are still working to cure or help prevent or slow Alzheimer's further.
Alzheimer's disease affects an estimated 1 in 10 people over age 65.
Visit WebMD to find in-depth information about its causes, symptoms, diagnosis, and promising treatments. Plus, find caregiver support here.  Click Here
Looking for other St Louis Health info and resources?    Home Care in St. Louis