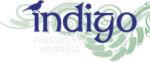 Indigo Massage & Wellness Therapy 
At indigo massage and wellness therapy, we promote physical and mental health through massage services, yoga instruction, aromatherapy and other wellness services. Conveniently located at Hwy 55 & Arsenal, we specialize in client-focused therapeutic massage. Here, an hour massage is a full hour long, not 50-minutes as often happens at other massage studios. Our licensed massage therapists are focused on providing you with the best possible experience. We believe that massage is a perfect way to bring regularly scheduled self-care into your life to improve your health and well-being! We are your St. Louis massage therapy experts!
A Focus on Wellness. A Focus on You.